30 January 2015
Celebrating Australia in Solomon Islands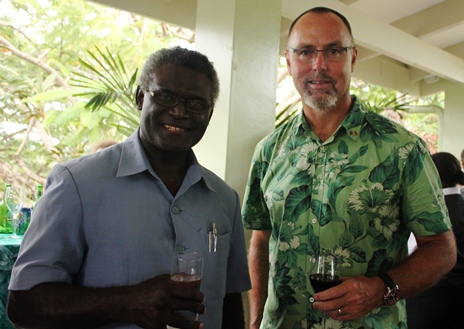 Solomon Islands Prime Minister Manasseh Sogavare and Australian High Commissioner Andrew Byrne
This week we've celebrated Australia Day, which has been an opportunity to reflect on what it means to be Australian. Formally, of course, Australia Day marks the anniversary of the arrival of the First Fleet in what is now Sydney on 26 January 1788.
If you asked every Australian to define Australia's national identify, chances are you'd get 22 million different answers. That reflects the fact that Australia is a country that's still evolving and changing. The Australia I grew up in is quite different to Australia as it is today.
We're an old country and a young country at the same time. Australia is home to one of the world's oldest cultures, which was already tens of thousands of years old before humans reached the Americas or the Pacific islands, for example. And we're one of the oldest continuous democracies in the world.
But we're also a young country, whose identity continues to evolve. We're an immigrant society and an increasingly diverse one. Drive around any Australian city and you'll see a rich tapestry of faces, cultures and cuisines from all over the world.
So defining what it means to be Australian is not easy these days. If there's one common characteristic of Australians, though, it's about helping others when things get tough. I saw this on display when I was in South Australia a few weeks ago during a particularly nasty bushfire. It was awesome to witness the community response – the volunteer firefighters, local ladies making food for families who'd been displaced, people donating goods for the shelters.
And that spirit of helping out others is something I've been proud to witness here in Solomon Islands over the past year. After last April's terrible floods, the Australian community in Honiara made a huge contribution to the recovery effort.
For example, a group of Aussie Rules football players organised a working party to clean up the White River health clinic, which had been inundated with mud. And many Australian business operators gave away their products and services for free, to help the recovery effort.
Remarkably, among the large Australian community in Honiara, virtually no-one asked the High Commission for help; but plenty of them offered to help, in any way they could.
It was terrific to see and a reminder that the relationship between Australia and Solomon Islands is much deeper than just the formal relationship between two governments. It's just as much about the strong links between our people. I'm incredibly proud of the contribution Australians make to this country.
***
Of course, Australians don't have a monopoly on community spirit and I've also seen plenty of examples of Solomon Islanders helping each other out. Most recently, I was very impressed with the actions of the community at Kakabona, when they helped the police capture three violent bank robbers last Monday. Well done to the community and to the police for working together to make Solomon Islands a safer place.