25 March 2015
Australia supports Auditor Generals officers to attain tertiary qualifications.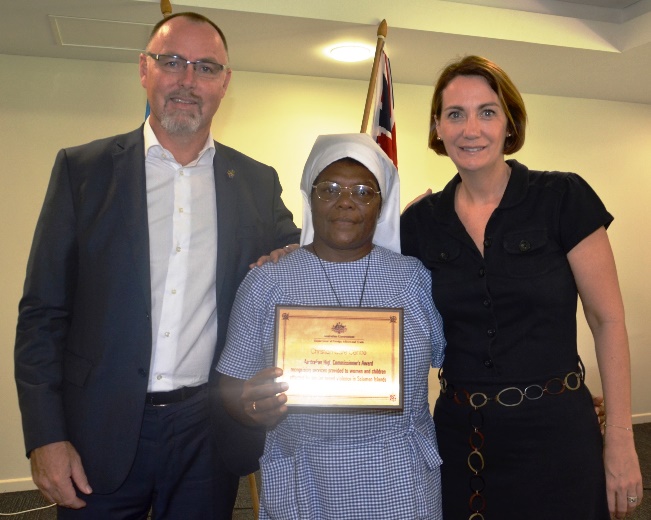 (l-r) Jenny Tura, Joyce Mesepitu, Joseph Nunua, AHC Minister Counsellor Sue Connell and Randall Noda.
The Australian Government is proud to have supported four senior officers at the Auditor General's Office attain degree qualifications at the University of the South Pacific.
Speaking at an event to mark the officers' achievements recently, Australian High Commission's Minister Counsellor Sue Connell said "Auditing is a very important function within the Government system and Australia is proud to have supported these four officers to attain qualifications to carry out their important tasks effectively."
"The work done by the Audit Office on the government's accounts gives confidence to Australia to keep providing aid to the Solomon Islands. This will help DFAT to keep funding projects and government ministries." Ms Connell said.
One of the graduates, Mrs Joyce Mesepitu thanked DFAT for the funding rendered that enabled them to complete their studies.
"I would like to thank DFAT for their funding support that enabled us to complete our studies at the USP Laucala Campus. Having this qualification has given us the confidence we need to do our jobs and tackle challenges and issues that come with the job each day." Mrs Mesepitu said.
Strong, independent auditors show whether public funds are being used to effectively deliver services to Solomon Islanders. Quality audits provide assurance that the government is managing resources responsibly and make appropriate recommendations to government to improve financial management.
Speaking at the event, the Acting Auditor General Robert Cohen said "There are marked changes in how these officers do their work since they completed their studies. They have been highly successful and have set new benchmarks in the leadership training they underwent after graduating from USP."
"They are also capable of arguing cases at meetings, and are stepping up to becoming executive managers in their respective areas of work. " the Acting Auditor General said.