29 January 2016
Australia injects AUD$2.7million to improve health outcomes in Solomon Islands
Australia has provided AUD 2.7million (approximately SBD18 million) to the Solomon Island's Government as part of its ongoing commitment to improving access to quality basic health care for all Solomon Islanders.
Australian High Commissioner Andrew Byrne said Australia is proud to be working with the Ministry of Health and Medical Services to improve access to health care for Solomon Islanders.
"Australian funds will support the Ministry of Health's core programs across areas such as maternal and child health, medicine, medical equipment, malaria, water and sanitation," said Mr Byrne.
"Importantly, 40 per cent of all Australian funds are earmarked for the provinces to support hospitals and rural health care centres performing lifesaving primary health care."
The payment was made under the Health Sector Support Program as budget support to the Ministry of Health and Medical Services. Australia is providing up to AUD $80 million over 4 years (2012 – 2016) to support the Solomon Islands Government achieve its national health objectives, under the National Health Strategic Plan.
Australia has been the largest donor in the Solomon Islands' health sector since 2003 and financial and technical support has contributed to improvements in the delivery of health services across the country. The maternal mortality rate has reduced by two thirds and the child mortality rate has reduced by half over the last decade. The number of malaria cases and death rates has declined by 75 per cent since 2003.
Eighty nine per cent of births are now attended by a trained health worker, up from less than 80 per cent in 2010. The availability of essential medicines at rural health clinics has improved from less than 40 per cent in 2007 to 75 per cent in 2015.
Australia has also been at the forefront of efforts to tackle malnutrition and anaemia in women and children. As a result of a Public-Private Partnership signed between Australia, the Solomon Islands Government, the private sector, and other development partners last year, Delite Flour Mill has commenced fortification of wheat flour with six essential vitamins and minerals. Rice fortification is expected to start later in 2016.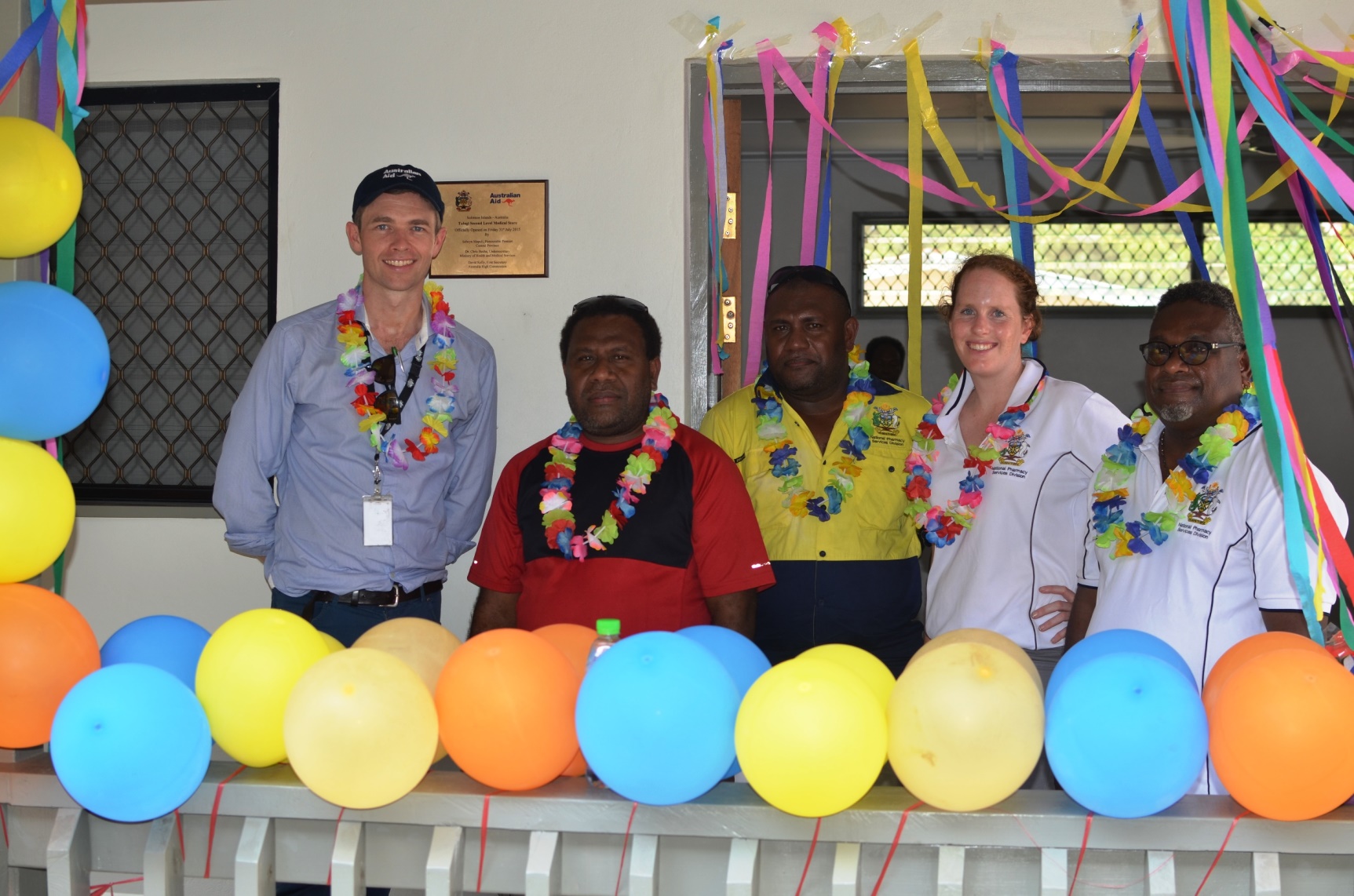 Image: Ministry of Health and Medical Services and Australian High Commission respresentatives at the opening of the Tulagi second Level Medical Stores in July 2015