16 January 2015
Reasons for Optimism in 2015
Early January in Honiara is a good time to reflect on the previous year and think about the year ahead. With many Solomon Islanders and Australians still enjoying their Christmas holidays, things are relatively quiet and there's a little more time for contemplation.
Last year, of course, saw Solomon Islands face some significant challenges. The floods in April, civil disturbances in May and the complex task of national elections in November. But the country weathered all these challenges, thanks to the resilience and fortitude of its people.
And that's what gives me confidence about the year ahead. So I think it's worth starting off 2015 by looking on the bright side of what the year might have to offer.
Of course, we're in the early days of a new government, and like many other people I'm looking forward to seeing its manifesto in the coming weeks. No doubt the government will have plenty of new ideas about how to reform the country for the better.
There are at least two big new investments which should start to get traction this year – the Tina River Hydro project and a new nickel mine in Isabel. Both projects promise to create jobs and help the economy grow.
In 2015 I think we'll see more foreign tourists start to discover the natural beauty and cultural richness of Solomon Islands. We're now seeing more cruise ships visiting Honiara and beyond. That's a tourism sector that has enormous potential to grow over the next few years, again creating jobs and growing the economy. And it's terrific to see that the aviation dispute with Fiji appears to have been resolved – I congratulate Foreign Minister Tozaka and his officials for giving us good news to kick off the new year.
This year we'll see the Australia Solomon Islands Business Forum held in Honiara for the first time. Previously it's always been held in Brisbane. But the fact that the forum will now be held here is a sign of confidence in Solomon Islands and an opportunity to expose more Australian businesses to the potential of this country.
I suspect we'll also see the Royal Solomon Islands Police Force continue to make big improvements over the course of this year. Like many foreign observers, I was very impressed with how well the police performed over the election period.
So there are many reasons to hope that 2015 will be a good year for Solomon Islands. But perhaps the most important reason is the incredible resilience and strength of Solomon Islanders themselves. It's what's enabled the country to get through so many challenges in the past, and what will see us through no matter what 2015 brings.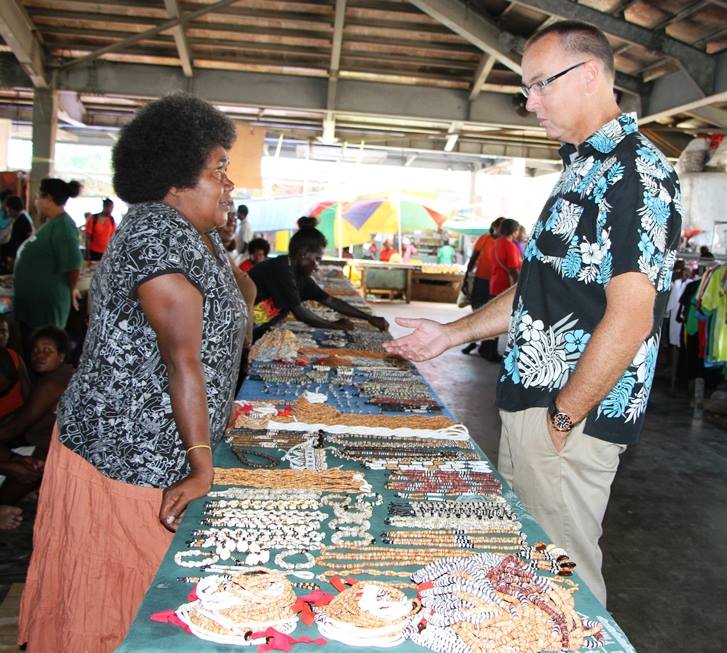 Australian High Commissioner Andrew Byrne with a handicraft vendor from Langalanga, Ms Noela Aniaelea. Market vendors like Ms Aniaelea are set to benefit if Solomon Islands achieves its potential as a tourism destination.