13 March 2015
New Colombo Plan Mobility Grant students in Solomon Islands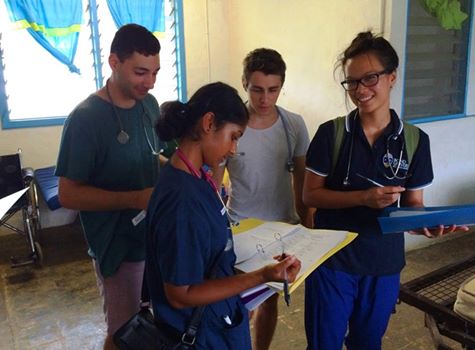 Fifth year medical students from Bond University at Kirakira Hospital (from left): Nicholas Bell-Allen, Justin Lewis, Priyadarshini Sekar, Bernadette Tran Nguyen
Each year, the Australian High Commission supports many Solomon Islanders to complete graduate studies in Australia through the Australia Awards Scholarship program.
And now through the New Colombo Plan, a growing number of Australian students are also choosing to complete part of their studies in Solomon Islands.
Student exchanges between our two countries are now truly going both ways.
A group of fifth-year medical students from Queensland's Bond University have recently completed placements at Kirakira Hospital in Makira Province, Solomon Islands, through the New Colombo Plan's mobility program.
As fifth year medical student Nicholas Bell-Allen says:
"It was an excellent experience, and something I would strongly recommend to future students or universities who are considering applying for a mobility grant under the New Colombo Plan."
"The people of Kirakira were extremely accommodating and pleasant. We would constantly be getting 'hellos', smiles and waves when walking the streets, and were always welcome to local volleyball and soccer matches!"