13 March 2015
From the High Commissioner's Desk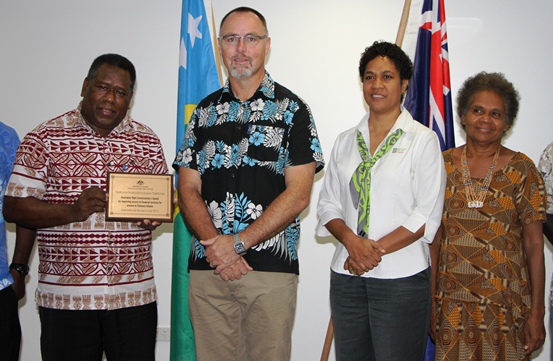 (l-r) Central Bank Governor Denton Rarawa receiving the award on behalf of the National Financial Inclusion Taskforce, Australian High Commissioner Andrew Byrne, BSP's Tupou Halofaki with Dr Alice Pollard
I was very happy to host the annual Australian High Commission's International Women's Day Breakfast last Friday at the Heritage Park Hotel. The event drew together prominent women and men from all walks of life to celebrate the progress towards women's empowerment in Solomon Islands but also to reflect on the challenges that still lay ahead.
I took the opportunity to focus on the issue of women's economic empowerment in Solomon Islands. It is a story of achievement – in some areas, very rapid achievement – but also a story about how much more remains to be done.
Women's economic empowerment – that is, enabling women to have greater control over their economic circumstances – is one of the great opportunities for human advancement in the 21st century.
Research has shown that strengthening the economic role of women is essential for reducing poverty. When women are economically empowered, they raise healthier, better educated families. Their countries become more prosperous, too.
There are certainly many strong and capable women and men in Solomon Islands who are bringing about changes in this area. I was honoured to see so many of them at the breakfast event.
Australia, as a friend to the people of Solomon Islands, is supporting some important initiatives to promote women's economic empowerment. For example, we're a proud supporter of the Solomon Islands Women in Business Association, SIWIBA, and one of its flagship initiatives, the Mere's Market. We've been at the forefront of efforts to support greater financial inclusion in Solomon Islands. And through our partnership with Live and Learn, we've supported numerous savings clubs across the country.
*********************
The highlight of the breakfast, for me, was announcing the winner of the High Commissioner's International Women's Day Award. This year the award went to the National Financial Inclusion Taskforce, in recognition of its achievements in improving access to financial services for women in Solomon Islands.
The National Financial Inclusion Taskforce has worked successfully with public, private and community sectors and donors over a number of years to promote the roll out of mobile and branchless banking services across the country. The result has been that tens of thousands of women have been able to open bank accounts and access financial services for the first time. That's an important step in helping to empower the women of this country.
Incidentally, I was delighted that the local heads of ANZ, Westpac and BSP were all present at the breakfast to see Central Bank Governor Denton Rawara receive the award on behalf of the Taskforce. The commercial banks have also played a vital role in expanding access to banking services and they're all to be commended for it. Congratulations again to everyone involved!